One of the great things about being a runner is you don't need a ton of gear/equipment to get started. Unlike triathlons which require a bike, a wetsuit, and a litany of other items, you only really need a quality pair of running shoes to get started as a runner.
But, many new runners have no idea what kind of shoes they should purchase. The options can be overwhelming. There are countless brands one can choose from including Nike, Adidas, Asics, and newer brands like Hoka or Newton.
In addition to the multitude of brands one can choose from, there are numerous 'styles' of running shoes to choose from. Walk into any store that sells running shoes and you'll find shoes that are characterized as 'neutral', 'motion control', 'lighweight trainer/racers', and more.
Rather than being overwhelmed by the options and/or simply picking the cheapest pair you can find, we'd encourage you to go to the experts. Go to a running 'specialty' store. If it's a quality shop, they'll measure your feet. They'll watch you walk. They'll watch you run. They'll recommend shoes that are appropriate for the kind of runner YOU are.
We were fortunate to chat recently with SF/Bay Area based runnning specialty store called A Runner's Mind. If you want to learn a bit more about the importance of proper running shoes and how a quality running specialty shop can help your running, read on...
Why are running shoes important?
Your feet are the foundation to your body. If you think about the amount of force that is applied on the body throughout the running cycle, you begin to understand how remarkable your feet are to within stand that amount of weight and impact against a hard, concrete surface. Your shoes naturally impact the way your feet are able to adapt to the terrain.
Ideally, your running shoes are making it a little easier and more efficient for your body to absorb shock and move your weight from one foot to the next. Without the proper shoes, the sheer force of impact can displace the body's alignment which can increase the risk of injuries throughout training.
What is "the best" running shoe?
There is no such thing as "THE best" running shoe. We can almost argue that every shoe we carry is THE BEST running shoe… depending on your body's mechanics. Finding the right shoe for you is largely based on your body's biomechanics.
This means, the runner has to take into consideration how their foot hits the ground and whether it's able to maintain a neutral stance or if the foot excessively over-pronates, and the hip placement of the runner is out of alignment as well.
This may suggest that the runner would benefit from guidance through a more structured shoe. The terrain you're running on may also require a more specific type of shoe as well – for instance, if you're training for your first trail ultra-marathon then you'll want to invest in a trail shoe with an aggressive outsole to provide thorough traction through more technical terrain.
Why buy running shoes at a "specialty store" like A Runner's Mind if I can get a better price at a big sporting good stores?
Local running specialty stores are commonly staffed by passionate and experienced runners. We pride ourselves on our expert knowledge and customer service. We take the time to understand how your body works and functions to find the best possible fit. Although that is only a small part of what we do; community is the framework of any running specialty store. Our goal is not only to find the best product to suit your individual needs, but it is also to provide a central hub for runners and walkers and fitness enthusiasts of ALL calibers to come in and feel a part of our family and community. To support specialty stores means you are also supporting local, and I think that's a message that often gets lost. Instead of offering your support into big box franchises or online retailers, you're supporting your neighborhood. Your money goes directly back into the community you live in. That's important. That allows our communities to grow and thrive. Shop Local. Run Local.
What else do you offer that could help a runner who is training for their first (or 50th) race?
First things first, it is absolutely critical to make sure you have the appropriate footwear to get you through your training as well as race day. From there, there are multiple departments that are equally important to consider. These are things such as figuring out your nutrition and hydration strategy which may mean you need to decide if you're carrying a hand held bottle or a hydration backpack. It also means understanding what types of fuel works best with your bottle. Is it something like an energy gel or something even denser or lighter than that as a fuel source?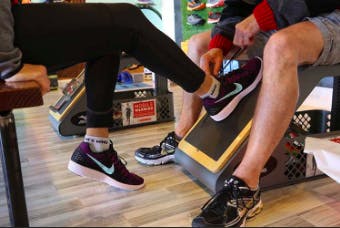 Recovery and self-therapy tools are equally important. Products like massage tools like the R8 Roller or a foam roller are great with working the kinks out after a long training run and making sure the body stays loose.
There are also things like headlamps and handheld lights to consider if you're a runner who runs either early in the morning (before daybreak) or a late night runner. Visibility is important – not only because you need to see what's ahead on the trail but also, oncoming traffic can see you too.
These are just a few quick suggestions, but there are a litany of other products to check out at your local running shop.
If I wear the same shoe as Kara Goucher will I be able to run as fast as her?
If that were true, I would own so many Meb Keflezghi or Galen Rupp shoes – it'd be ridiculous. You could try that or you could simply keep training.
You can pour the sweat, blood and tears that all these incredible athletes have into their training and you may get there someday!
There is always hope if the motivation and inspiration is there, but hey! Who knows? You can definitely try that. But, I wouldn't necessarily recommend it. :)
Photos via A Runner's Mind