Usually "I'm going to sleep now" actually means "I'm going to lie in bed and scroll through my Instagram for an hour." For me, this usually entails stalking some of my favorite fitness inspirations, many of which not only give me the motivation to get up in the morning and actually go to the gym, but also inspire me to convert to healthier long-term lifestyle.
I've compiled a list of "Insta-Famous" fitness sensation accounts that are designed for and target the success of "real" women. These trainers are honest and up-front about their own personal fitness journeys and the fact that they weren't naturally born as perfectly shaped human beings. In fact, many of these women share their own personal struggles with weight, exercise and diet, detailing their ultimate lifestyle transformations as a way to connect to their followers.
This tactic has been quite successful in amassing large followings; many of these fitness accounts have actually built their own online communities, full of motivated individuals who label themselves and connect through social media with special hashtags such as "#Kayla's Army" or "#fbggirls." The sense of positivity and motivation that these fitness idols exude, and the resulting communities that are created through these good vibes, make it no surprise that these women have garnered such strong and loyal followings despite humble social media beginnings. 
So, without further ado, here is my list of the top ten fitness trainers on Instagram with the best, and most effective, workout and nutrition guides for real women like us!
Related: Top Marathon Runners and How They Got There
1.  Kayla Itsines (@kayla_itsines)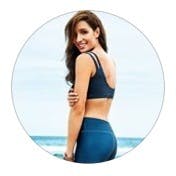 Kayla Itsines is 4 million followers strong, and in my opinion, is the 'Godfather' of personal trainers on Instagram. She has built a fitness empire, and quite literally an army ("#Kayla's Army") from scratch. She started out posting "before and after" pictures of her personal clients, and quickly garnered attention due to the dramatic results.
Fast forward several years and she now has her own Fitness app, "Sweat with Kayla" as well as several popular twelve-week "Bikini Body" workout and health guides, including recipes and nutritional advice. Kayla even hosts meet-ups around the world, in which girls attend her Boot Camps just get their butt kicked by Kayla in person!
2.  Sophie Gray (@sophiegray)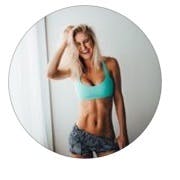 Sophie Gray, a holistic nutritionist and personal trainer, is the owner of the popular Instagram account @wayofgray. She also has her own workout and nutritional guides that actually include videos of her coaching the user through the entire workout (great for those who need someone to constantly push them harder). She emphasizes the adaptability of the workouts for all levels and the need for equipment as optional. Sophie also notes that her guides contain the exact same workouts that she does herself to stay fit, and once you see her body…you'll want to try them out for yourself!
3. @BaseBodyBabes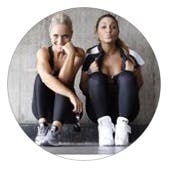 With over half a million followers on Instagram, the Base Body Babes, a pair of Australian personal trainer sisters, have exploded onto the Instagram fitness scene. The girls' account emphasizes health, fitness education and inspiration, hosting a collection of perfectly curated images of their amazing bodies, workout outfits (yes, please) and aesthetically pleasing motivational snaps. The babes have their own workout and nutritional guides (of course) that can be purchased through a link in their Instagram bio, as well as own their own gym (now that's badass)! 
Related: Get to know Verity 'Beep Beep' Breen
4. Lita Lewis (@followthelita)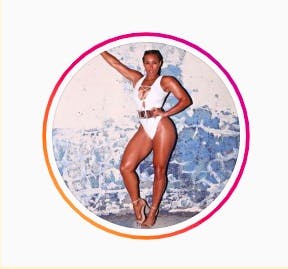 Lita Lewis is a health coach and mother of four children whose Instagram blog shows that staying fit is for all bodies in all shapes and sizes. Her photos include inspirational quotes about self-empowerment and images of her working out in fun, beachy settings. She was born in Los Angeles and raised in Sydney, Australia, and once again lives in LA. She motivates others through redefining the meaning of fitness, being a life coach, and hoasting intense bodyblast bootcamps.
5.  Tone It Up (@toneitup)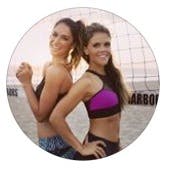 Founders Karina and Katrina have over half a million followers as part of their #TIUteam. Their Instagram account provides glimpses into the fit lives of this vivacious twosome, who not only had their own TV show on the Bravo Network, but also have fitness, nutrition and lifestyle plans and guides for their motivated followers!
They are currently running an "8 Week Fitness Challenge" with exclusive workouts, an eight-week meal plan, as well as tips and inspiration. And let's be honest here…the transformations they post of their clients (and of themselves!) are enough to inspire any couch potato to at least try out their FREE starter pack!
6. Anna Victoria (@annavictoria)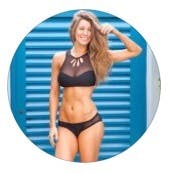 Anna Victoria is the creator of The Fit Body Guides, which includes a 12 Week Meal Plan (with a vegan/vegetarian meal option) and 12 Week Training Guide. Her Instagram boasts impressive transformations by her #fbggirl community using her guides, obligatory pre-workout mirror shots, and videos of her completing different exercises from her workouts.
Like many successful fitness trainers on Instagram, she emphasizes the "strong, not skinny" approach, encouraging women to take on her guides as a means to grow stronger both physically and mentally, not just to lose weight for the sake of becoming "skinny." Victoria's journey from "skinny-fat" to strong and fit is relatable and inspiring, and posting her own transformation picture back when she first started her Instagram account in 2012 was actually the spark that started her rise to insta-fitness-fame.
7.  Amanda Bisk (@amandabisk)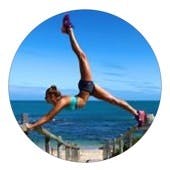 Amanda Bisk, a former Australian Pole Vaulter and exercise physiologist, is quite open about her struggle with chronic fatigue and giving up competing, as well as her journey to recovery through educating herself about healthy eating. She emphasizes "listening" to your body, fueling it with healthy foods and inspiring yourself to commit to goals you set for yourself, gaining control over how you live your life.
She has a 12-week training program and motivation guide with a free week of pre-training on her website. After your 12 weeks are up, you will continue to have lifetime access to the program as well as the secret Members Group, an online fitness community that inspires and motivates each other. Like most other Insta-fitness guides and workout plans, no gym membership or equipment is needed and the workouts are short, sweet and effective (just 20 minutes)!
Want to start your training routine? Find out how the SportMe App can help.
8.  Massy Arias (@massy.arias)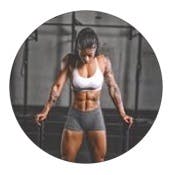 Massy Arias is a personal trainer and health coach based in Los Angeles whose Instagram and website emphasizes adopting a healthy, active lifestyle and includes a variety of custom workout and meal plans designed to maximize fitness potential. She focuses on achieving a healthy balance between mind and body that surpasses the importance of achieving "desirable aesthetics," citing her own emergence from depression and surpassing of physical limitations as amazing benefits of leading a healthy, balanced lifestyle. Massy's website offers a wealth of different e-books and guides, including (but not limited to) custom meal plans and/or training guides, the "MA30DAY Fat Loss" challenge and the "MA30DAY Muscle Building" Guide. 
9.  Emily Skye (@emilyskyefit)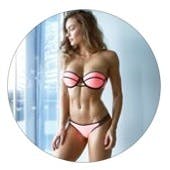 Just like the other fitspirations in this article, Emily offers a versatile meal and workout plan to her followers, emphasizing that her plans are for "all ages and body types" and can be done at home or in the gym. Her "F.I.T." Program (Fitness Inspiration Transformation) includes a video exercise library of over 80 unique exercises, home or gym workout options, as well as quick-to-make meals with meat, vegetarian and vegan meal plan options. Her meal plans even include weekly-itemized shopping lists…she basically does all the work for you!
And if you're still lacking motivation to work out, all you have to do is check out her Instagram to see some of her OWN transformation pictures (I just love when these fitness trainers show their vulnerable side and post pictures of their own progress over time—it is so inspiring and makes us "normal" gals feel like we can do it too!) 
10. Hannah Bronfman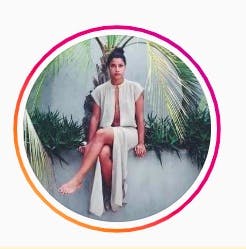 Hannah Bronfman is a New York based fitness enthusiast whose Instagram wellness blog takes a holistic approach to health, beauty, and fitness. It's equal parts healthy cooking, walking the city streets, and leading workout routines. Her aesthetic feels authentic and inspires women to do what makes them happy in the long run. She wrote the book Do What Feels Good, a guide to living a balanced lifestyle with recipes, daily routines, personal stories, and more. Her online blog covers serious topics like meditation techniques and fun topics like gift guides for wellness.
Feeling inspired? Find out how the SportMe App can help with your training routine.
11.  Lyzabeth Lopez (@lyzabethlopez)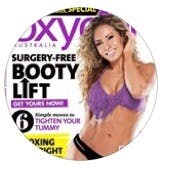 Lyzabeth is an award winning 'Master' trainer, holistic nutritionist and creator of the "HourGlassWorkout". Lyza acknowledges that all women have different body types, and she has created modifications based on reshaping different natural body shapes through 'hourglass shape-training' techniques. Lyza claims that her combination of 'hourglass shape-training' and a holistic eating plan is the "bible" of all guides to getting lean, sexy curves.
She herself cites a hard personal journey of transforming from an "anorexic body-hating teenager" to ultimately "loving and understanding food and exercise" through her education of healthy nutrition and experimenting with different workout routines. The success of Lyza's guides is supported by hundreds of transformation pictures and her motivating Instagram account filled with gym mirror "ab-check" selfies and exercise clips.
12.  Faya (@fitnessontoast)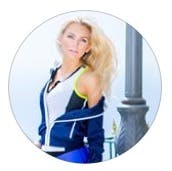 Faya is a Swedish personal trainer and fitness blogger based in London. Her Instagram is filled with beautiful, bright pictures of yummy foods, cute activewear outfits, as well as diet and exercise tips. Her fitness blog is full of recipes, training tips and personal fitness exploits. She also has an E-Book, "The Four-Week Fitness & Food Effect", inspired by sensible and scientific information that is sustainable for a longer-term healthy lifestyle. The guide promises weight loss from the first week, with increased energy levels, a faster metabolism, less bloating, improved body shape, and other positive benefits. 
13. Ally Love (@allymisslove)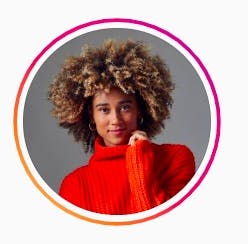 A versatile athlete and fitness trainer, Ally is a certified health coach who runs and dances. Her fitness approach is one of empowerment, which she exercises through the brand she founded called Love Squad. With the motto "Living for truths, not trends," she inspires everyday women to empower themselves through living authentically, finding passion, and staying active. Her Instagram page features inspirational fitness photos, entrepreneurial slogans and images, plus fashion and beauty tips. Her blog hones in on helping women to take charge of their lives through action, either through building a business or taking care of physical health.
Final Note
As you can see, one of the main reasons the women listed above have become so successful through social media is that their workout guides and motivational tactics are conscious of what the average woman's schedule and body can handle. The efficient workout guides include adaptable exercises for all levels, usually don't require equipment or a gym, and are able to fit into the working women's busy lifestyle.
The focus on delivering results to real women, rather than emphasizing celebrity clients and the media's obsession with the traditional "model-skinny" aesthetic, has been a great source of success in growing their personal brands. These fitness trainers provide realistic advice—emphasizing that hard work and dedication is required in reaching fitness goals and that there is no quick fix to losing weight and getting that perfect body. They lead with transparency, a quality I believe most women appreciate. Now, it's your turn to pick out your favorite guide, commit to a goal, and get your butt to the gym! You can do it. For an extra dash of inspiration, check out our marathon training app for an individually tailored training plan and pace tracker. 
Related: Get to know elite runner YiOu Wang