We published a blog posting a couple weeks ago outlining a few of the many reasons to run on a more regular basis.  One such reason we included was that you can find 'love on the run'. While one may not immediately associate running with love, I've been witness to love on the run innumerable times over the years via my Run Club. 
Running does make you sexier, so the fact that you can find love (of the romantic or platonic kind) on the run shouldn't be too surprising. Additionally, the lovely chemical bath associated with the runner's high has a tendency to make one relaxed, comfortable, and tranquil. It's always a bit easier to connect with others when you're in this state of mind.
I've seen total strangers become close friends in the span of a few easy miles on the road. I've witnessed dalliances, romances, and even weddings blossom as a direct result of running.
One couple that saw their romance start with running is Jill & Shelly. This couple found love on the run in 2014. These two runners met via my Run Club, sparks flew, and scarcely a year later, they were married.
'Jogging' Jill and 'Speedy' Shelly have recently been joined by 'Jogging' Jack. While Jack may not be running much (yet), he spends plenty of time enjoying the act of running vicariously from his baby jogger. It's not a question of if, but when Jack will join his parents on the road.
We asked Jill and Shelly a few questions about how their 'love on the run' evolved….
#1 - How did the two of you first meet, Jill?
Shelly and I first met on a Saturday morning run at Marathon Matt's Run Club when we were running across the Golden Gate Bridge.  I was actually really nervous about running across the bridge. I have a little fear of heights and having never run across the bridge before I wasn't sure if it was something I could do.  
Shelly struck up a conversation with me during warm-ups and we ended up talking about a couple of random topics that really caught my attention.  We just kept talking all the way through that run and before I knew it we were across the bridge and heading back to the start of the run.  I had been so engrossed in my conversation with Shelly that I hadn't paid a bit of attention to the heights, the run, the pace, or anything else but Shelly.   
I just remember thinking,  'Wow! That was a really fun run and this guy seems really amazing.'  One of Matt's coaches actually snapped a picture of Shelly and I running across the bridge that very first day we met.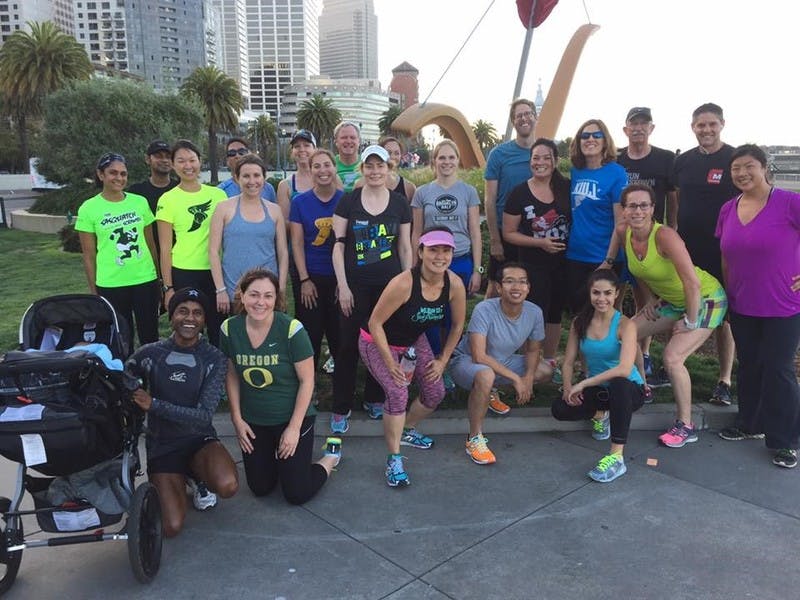 #2 - Did you join Run Club with the idea of meeting someone?
No, not at all.  The year before I joined run club had been one of the hardest of my life.  I had been battling depression, I gained a lot of weight, and had been really inactive.  
A couple of months before joining Marathon Matt's Run Club, I had an epiphany that it was really up to me to turn things around for myself. I needed to challenge myself in fun and positive ways.  When I joined Run Club I was really just focused on running.
I was focused on making every workout and doing what I was told so that I could progress in my running. I was shocked at how much I ended up loving it. I was also surprised to see how quickly I was able to see results in my running and efforts to lose weight.  
I ended up completely getting my mojo back through running and it literally changed everything in my life.  A common saying about love is that you find it when you're least looking for it. For me, this was absolutely true. But, I also think if I hadn't put in the hard work both on myself and in running that I either would have never met Shelly or I wouldn't have been in such a good place in my life to have been able to truly fall in love.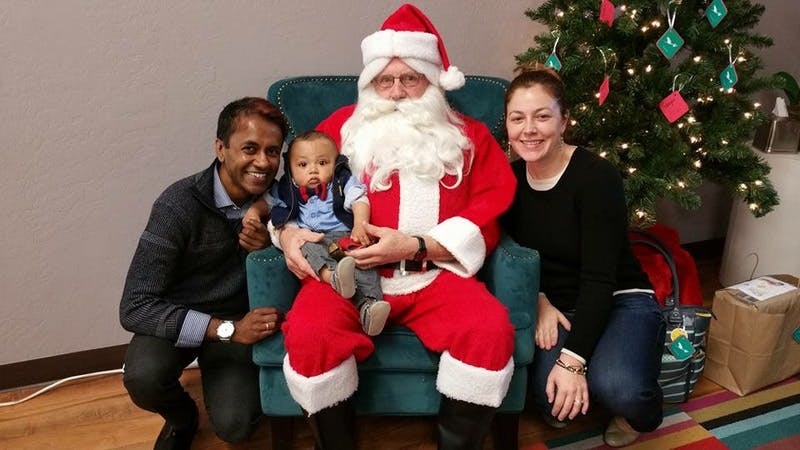 #3 - When did you first think there might be a love connection? Was it during a run together?
Our first date was a Beer Run (lol) and I think that was our true love connection. We always have fun on runs together. I think having just an insanely fun time with another person is one of the most important things.  If you can't have fun together, then really what's the point?
#4 - How often do the two of you run together?
We used to run together a lot more before we had our baby Jack. We ran at least two times a week. Now we shoot for one day a week, but even that has become really hard lately.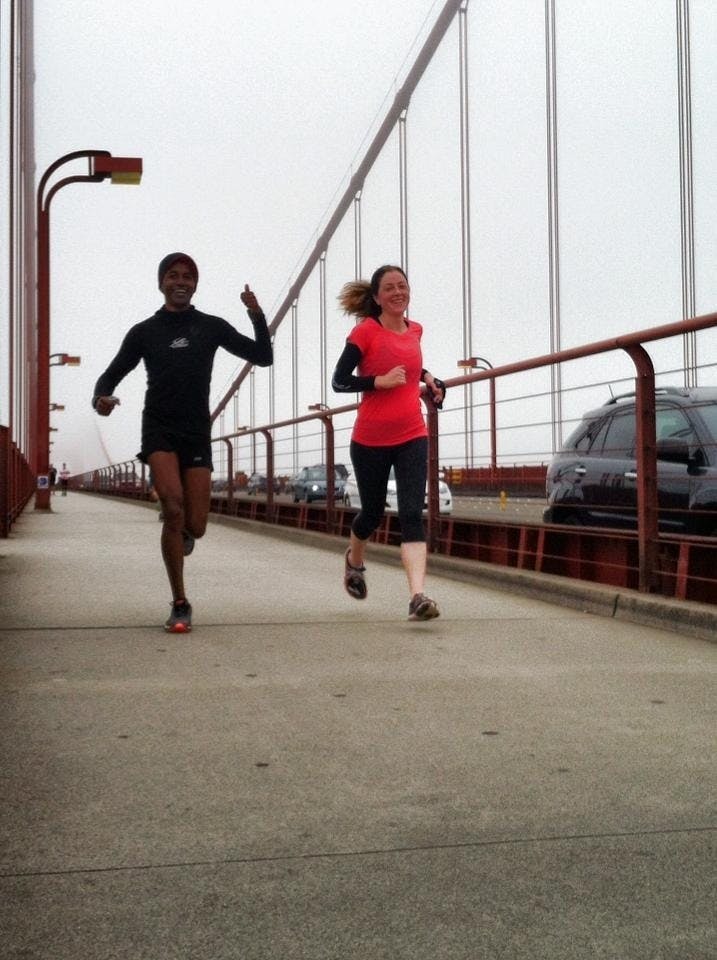 #5 - Do you think you would have gotten together had it not been for running?
I really don't think we would have gotten together if it hadn't been for running.  I don't think our lives would have crossed paths any other way and again, I was in such a good place when I met Shelly because of running, that I really do think that running played a major part in our love story.
#6 - Do you still run together?
We do still run together just far less frequently.  We have an eight month old baby and having a baby has been the most awesome challenge of our lives. It's been awesome in that it truly is AMAZING and awesome in that it is ROYALLY challenging.  When I was pregnant I would fantasize about putting my baby in the jogging stroller every day and going on long runs.  
I even planned on running a marathon six months out from having Jack and then life happened. The reality hit of being a full-time working mom. I've had to allow myself a certain amount of space and peace around the fact that I'm going to have to slowly build my running back up.
Running consistently again is going to take time. I'm so grateful to Shelly because he has been so encouraging and patient with me throughout this time. Shelly always makes things fun and I am grateful every single day of my life that I met him.